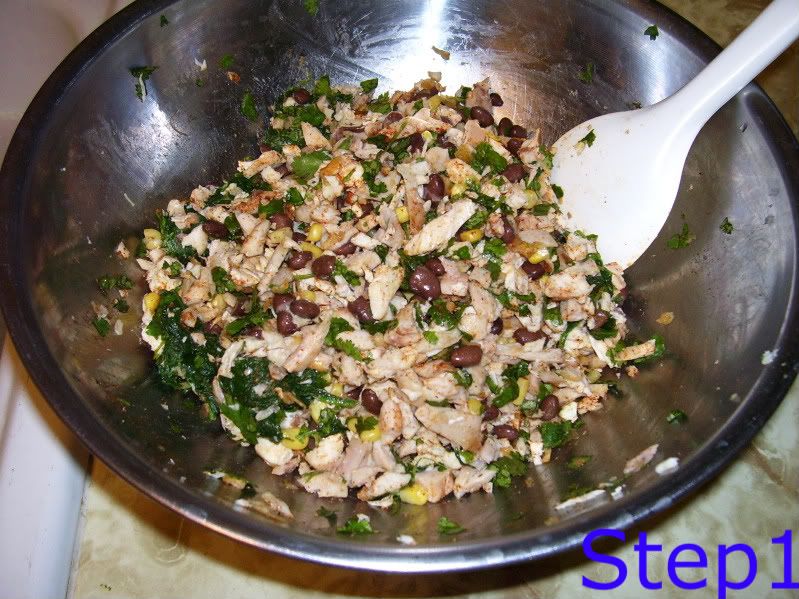 Finish getting all the usable chicken meat off the rotisserie chicken there was a lot more then I realized there would be so I had to create a double batch of the mix :O) Just say YUMMY!!! In to the mix went lots of different ingredients but I find I tend to use what I have on hand more then follow the recipe to the T in my house that doesn't happen much..
Original Recipe Link
..
The basic player to create this nice little roll are wonton wraps if you want a real egg roll texture if not you can use tortillas we use the tortillas most of the time since we usually have them on hand around the house and this allows me to use up any leftover meat egg rolls. You could use leftover ground meat as well in place of the diced up chicken.
First open the oven & make sure you don't have anything hiding in there like I do (pots/pans/casserole dishes it's a great storage place since I only use the oven usually in the winter if I am baking since our summers here in Phoenix are usually a little too warm to use it.. Preheat oven to 400*F.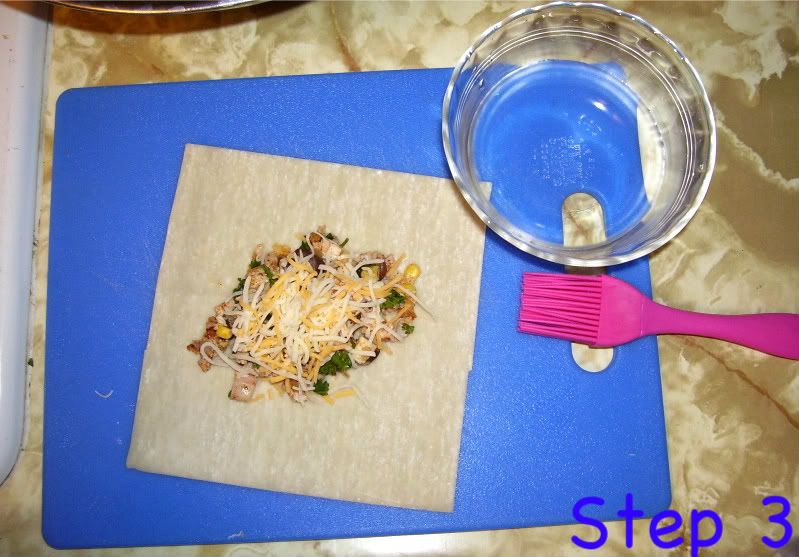 I use a cutting board to assemble the wraps on for 2 reasons
1- Messy & the filling eces can be just dumping back into the main bowl.
2-Quick Clean up when finished
P
I keep a small little bowl w/ water in it along with a pastry brush to *Glue* the wrap closed better however I prefer to just dip my fingers in the water and keep rolling the brush can be a royal pain too dainty for me. DON'T OVER STUFF YOUR ROLLS!!
I am not perfect I forgot to tell you to either parchment or foil line a cookie or 2 depending on how big your sheets are and then spray w/ cooking spray. Then place all your rolled wraps on the sheet close together is fine just leave enough space so they don't cook & stick to each other.
The spray butter works to golden the wraps you could do an egg wash however I for whatever reason find the thought of egg washes yucky.I just do a quick spray/mist over them.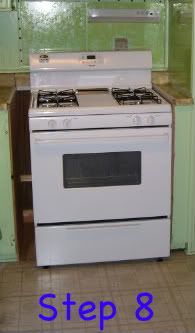 Bake the wraps for approximately 10-12

minutes

until golden brown. Since I will be reheating these in my toaster oven when we eat these later in the month I don't cook them more then needed since I will be reheating them for 10-15
minutes
in a 350 *F toaster oven.




While making 20 wraps I ran out I still had enough mix leftover so into 3 tortillas for quick lunches or dinner one night. (THESE I DIDN'T BAKE THIS TIME) but I have before.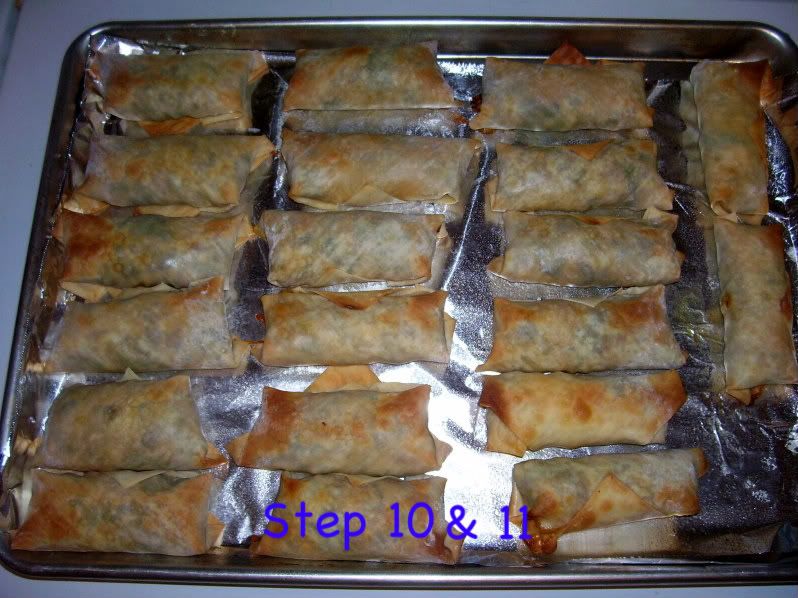 This is how nice and golden brown they should be when you pull them from the oven I then allow them to cool completely.
Then when cool I wrapped the burritos in saran wrap since these may get grabbed for a quick lunch wrap or enchiladas style one night.

The wonton wraps I just drop into the freeze bag once cooled and usually for a family of 2 we will usually eat 2 or 3 each per meal so that is how I package them. So all we have to do is grab out only what we need this cuts down WASTE!!.