DD herb potatoes just a little bite of oil and any herbs you want bake
at 350 *F for 30 mins or until golden brown.
10 packets of ranch to use up so I decided to see what else I could use ranch in. Well to may suprised you can use oven potatoes. YIPPIE!!!!
My family loves to make up large batches of baked potatoes in the crockpot at one time this will make dinner prep less then 30 mins for potatoes eating a few different ways.

We use them in different ways since DD who is Lactose intolerant now has to have different types that exclude dairy so each person can have what they desire.
1. Baked potato- w/ the fixings
2. Chili Baked Potato w/ the fixings for lunch
3. Broccoli Cheesy Baked potatoes
4. Herbed Oven Baked Potatoes
5. OvenFries
6. Burritos- Cheese & Sour Cream & Salsa
Step 1
Preheat oven to 350*F
8 x 8 pan or larger lined w/ foil for quick clean up spray w/ PAM or use a pastry brush w/ oil to coat pan.
Step 2
Dice up as many pre-baked potatoes as desired we usually like leftovers so I may do 4-6 for 2 people.
Pour them into the greased pan & drizzle w/ oil (used oil in place of butter) and sprinkled w/ chili powder

Mix up to coat the potatoes into the preheated oven they need to go bake approximately 15 mins before the next step..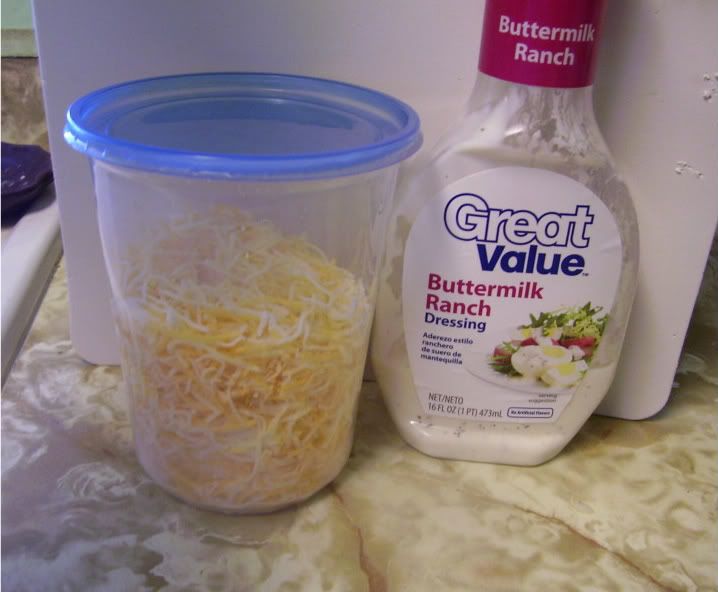 Since I had a small amount of potatoes I eyed balled how much ranch to use and how much chili powder I needed to use the end of this bottle so I could start getting to the packets that also need to be used up in the pantry cabinet.
Step 3
After the 15 mins drizzle ranch dressing over the potatoes & top w/ shredded cheese.

Back into the oven for another 15 mins until the cheese is nice & melted.

Serve while hot.
Good but still missing something??? however this recipe I would use again maybe adding green onions & using hotter chili powder to give it some kick.