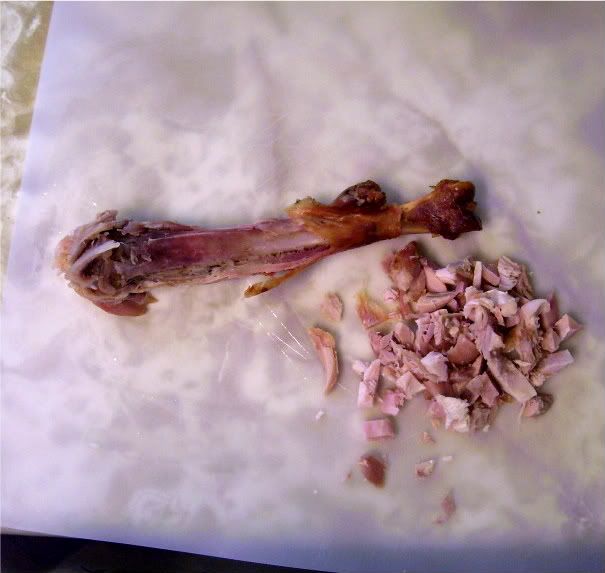 Your all probably asking yourself what the heck to do with all the leftover turkey that someone sent home with you from Thanksgiving dinner.. go searching for a great recipe of course well I found this one at 8 am this morning Turkey Pot Pie

Step 2

Well first remove all the good stuff from the bones and diced it up into small bite size pieces.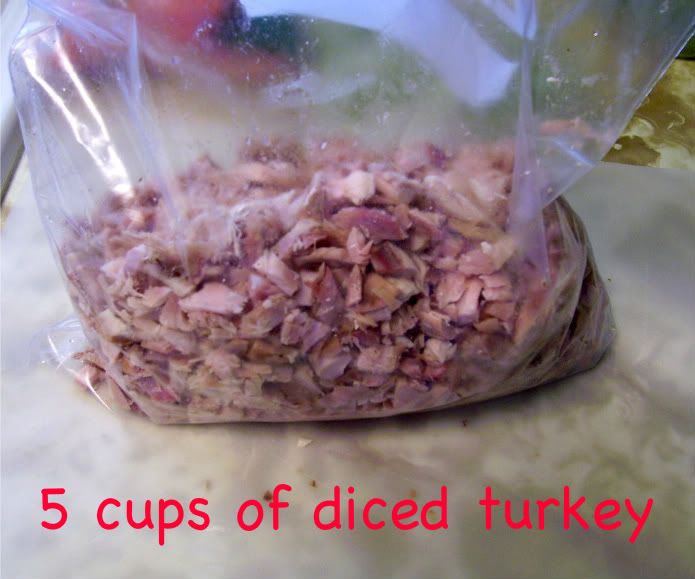 This was all dark meat that most people don't prefer/like & they usually toss in the trash but as you know I can't see/afford to waste food I just have to get creative this month my budget is super tight to being off on Turkey day..My mom did dinner at her house this year and I yielded a lot of dark meat to use for this recipe I only needed 1.5 cups however I had 5 cups total so the rest stayed in my gallon Ziploc baggie & go popped into the freezer for me to be able to try this recipe or any other again later next month. ( 3.5 cups of free turkey meat)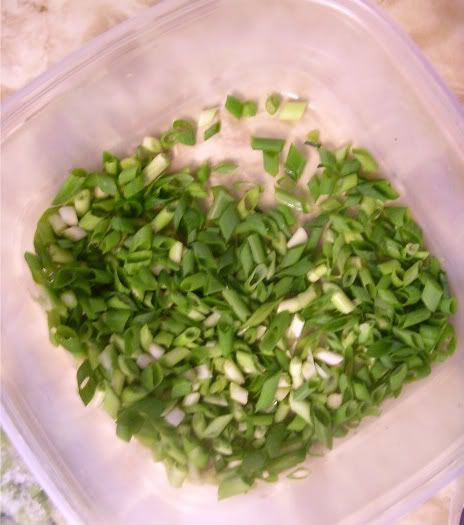 Step 3
The recipe calls for 1 small onion minced as usual I don't have an onions except green so I grabbed 5 stalks and quickly diced up w/ my kitchen scissor makes this job really quickly. Don't be afraid to use different types of onions then what a recipe calls for live dangerously and use green instead of white lol or maybe dice up a nice red onion it would give this lots of color.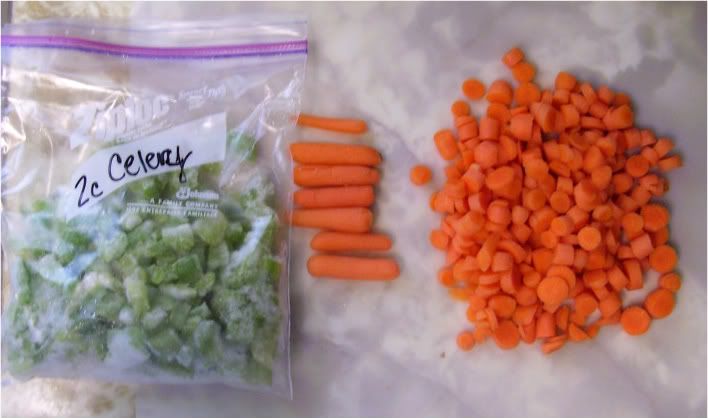 Step 4
I had to dig in my freeze for my pre-diced stash of celery (2 stalks was what I needed for the recipe) makes meals like this go quicker as well. I see I am getting low on my celery I will purchase 4 bags and diced it all up at once saves time and common sense why dice it 2 -4 time a month if you use celery that much?
I never have regular carrots but I had a bag of what I call munching carrots I need 2 carrots so I just grabbed what looked like enough for yield around 2 and diced away.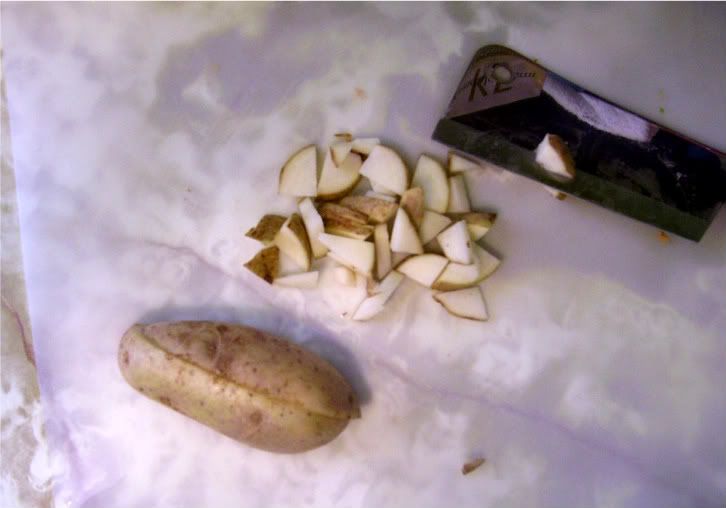 Step 5
I washed 3 potatoes and left the skins on and diced up really quickly as well.
Step 6
The recipe called for 2 cups of water and 2 chicken bouillon cubes to yield 2 cups of broth . As usual I don't have them ( they contain a yucky ingredient called MSG I get really bad headaches from this so I skip that when I can) as you can see the label says NO msg :O) So I opened this box and used 2 cups.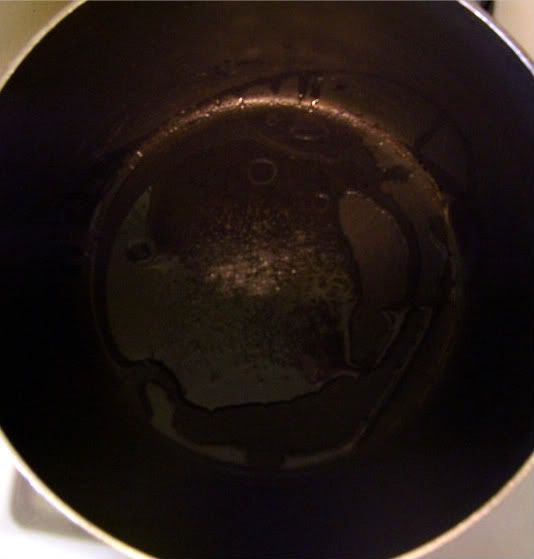 Step 7 In a large pan or stew pot melt 2 tbsp of butter I ran out of my dd lactose free butter so I used oil..since the butter is made with evoo so regular canola oil will be fine.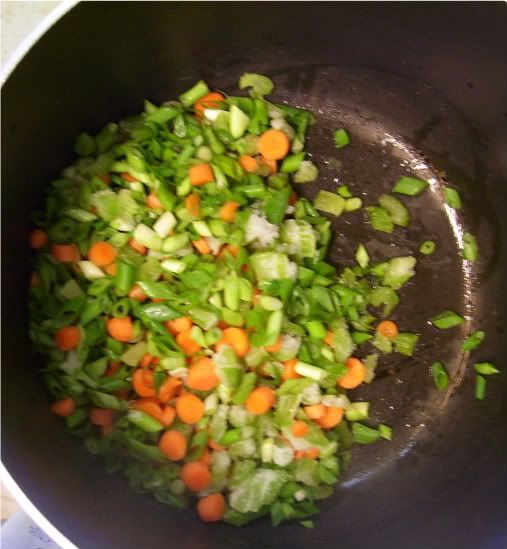 Step 8 In the heated oil drop the carrots/celery/green onions cook until tender then add in the chicken broth and bring to a nice quick simmer.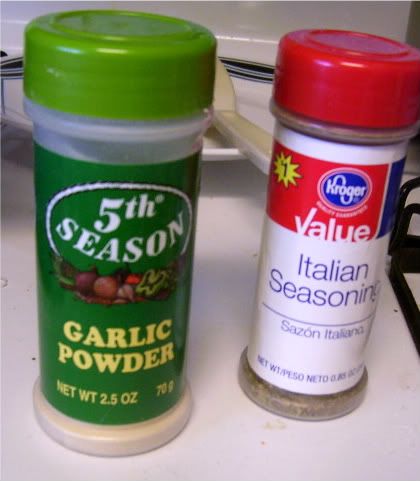 Step 9
While the carrot mixture is cooking now is the time to add the spices the recipe calls for parsley I have none..& oregano I have none..and salt and pepper Hey I have those... I decided to use garlic powder since dd loves garlic and Italian seasoning since it's close along with salt and fresh ground pepper.
Step 10
DD is lactose intolerant and she can use lactose free milk so that is what I used in the recipe. 1/2 cup of lactose milk in place of regular moo. I poured the milk into a cup to come to room temp.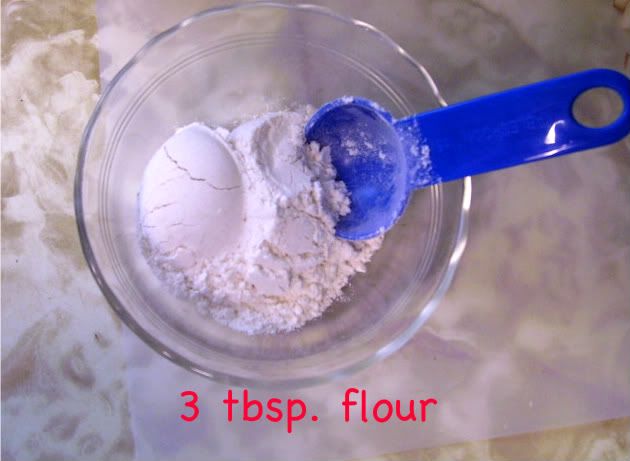 Step 11
You will need 3 tbsp.of flour I would assume that any type could be used for this step like rice or even whole wheat.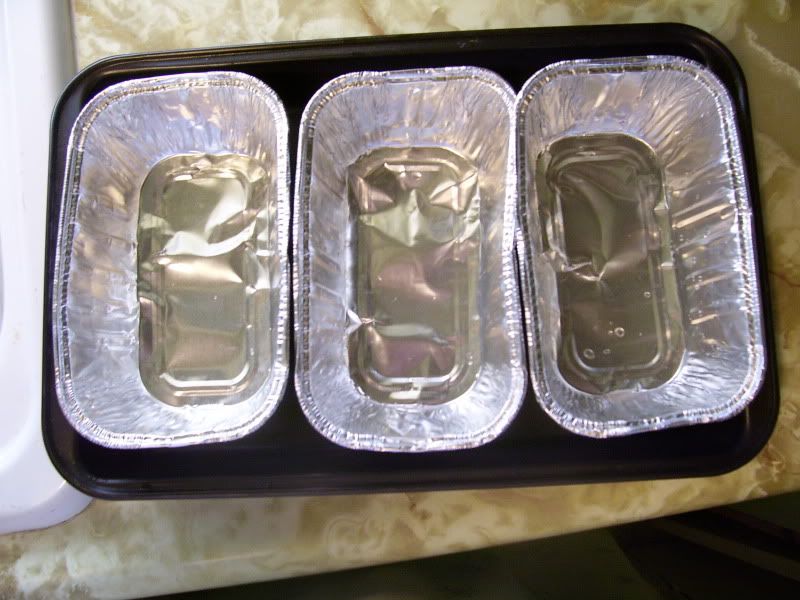 Step 12
I guess I better get the pans ready since I will be making these for me and my dd I decided to use mini loaf pans for a few reasons in place of a circle pie plate.

1 reason takes up less space in the freezer.

Reason 2 dd doesn't like peas and corn and I want to add those to my pie

Reason 3 this allow us to try different extra ingredients to each loaf.
Step 13
Time to drop in the diced potatoes into the boiling chicken broth to cook until tender the smaller you diced (all your food) the quicker it will cook and also you will avoid different sizes being over/under cooked
Step 14 Cook until tender this took about less then 15 mins.
Step 15
In a small sauce pan heat the remaining 2 tbsp of butter ( used oil)
Step 16 When the oil is heat/bubbling add the flour to the pan and stir well to mix up and cook.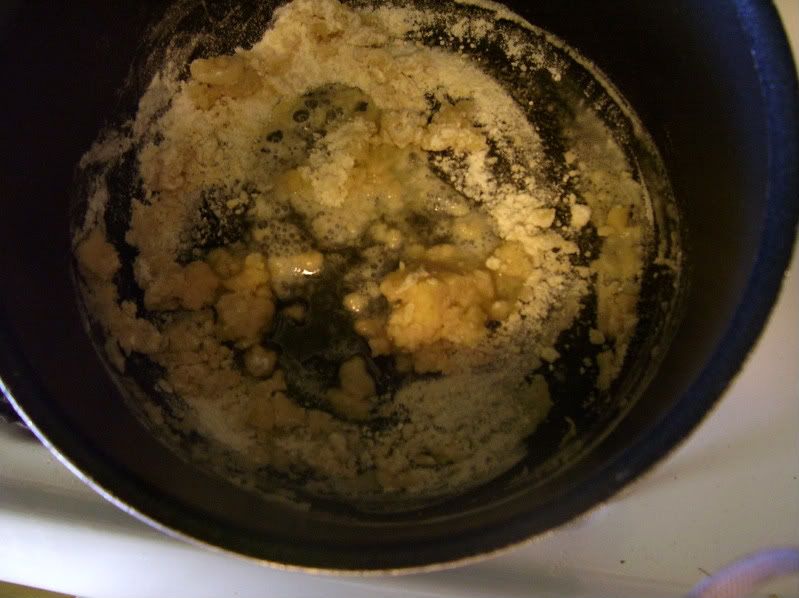 Step 17 This is what the flour mixture well look like before you drop in the turkey.
Step 18 Drop in the turkey and coat well.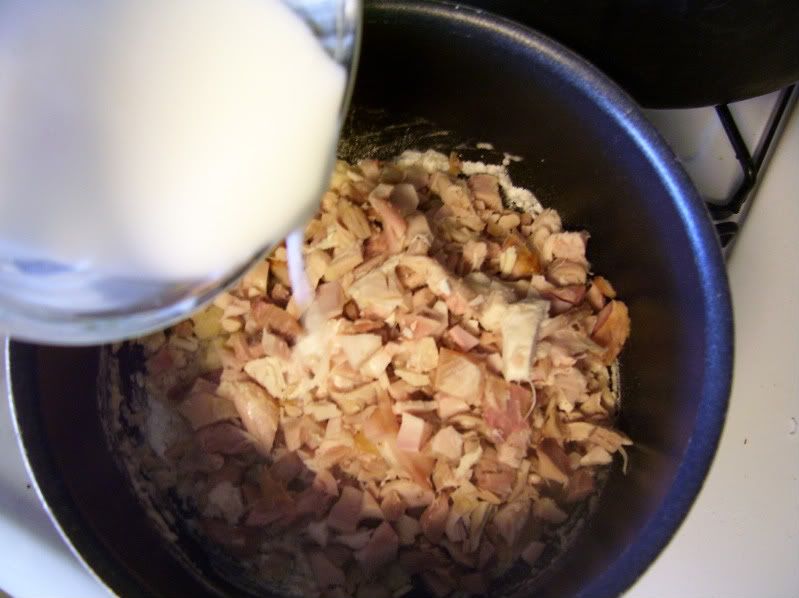 Step 19 Slowly add the milk and keep mixing well.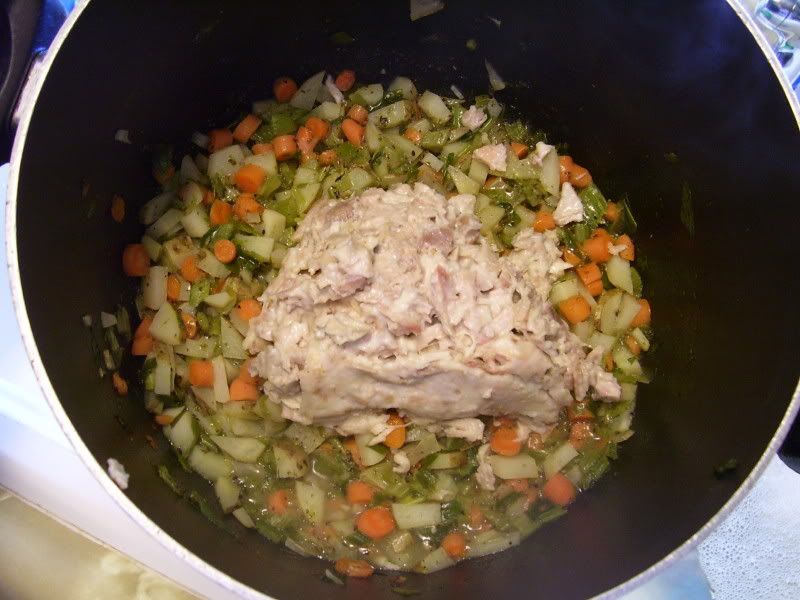 Step 20 Drop the turkey mixture pan ingredients into the larger pot of carrot broth mixture and mix uo well.
I like lots of veggies in my food so I pulled from my freezer stash a bag of corn and a bag of peas to add the my pot pie.. DD doesn't like them.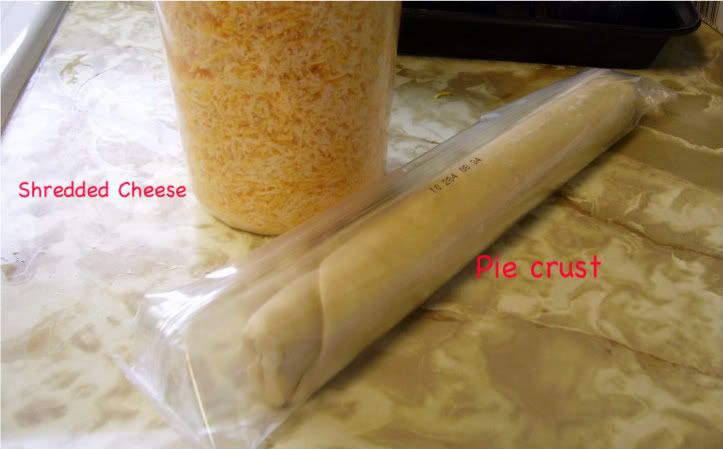 I also wanted to add some shredded cheese to mine as well and since I have NEVER made pie crust I grabbed the leftover pie crust hiding in the lower pull out drawers.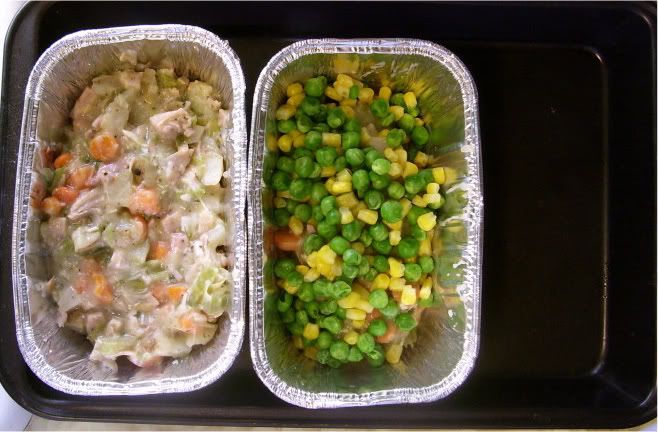 Step 21
I wanted to make these in my toaster oven plus I didn't want to have any tipping/spilling issues so I placed in on a cookie sheet. I then scooped Turkey filling into each then added the extras to the ones that needed them. (remember don't mix them up and forget which is which this happened to me and dd got and upset tummy w/ issues bad mommie!!!)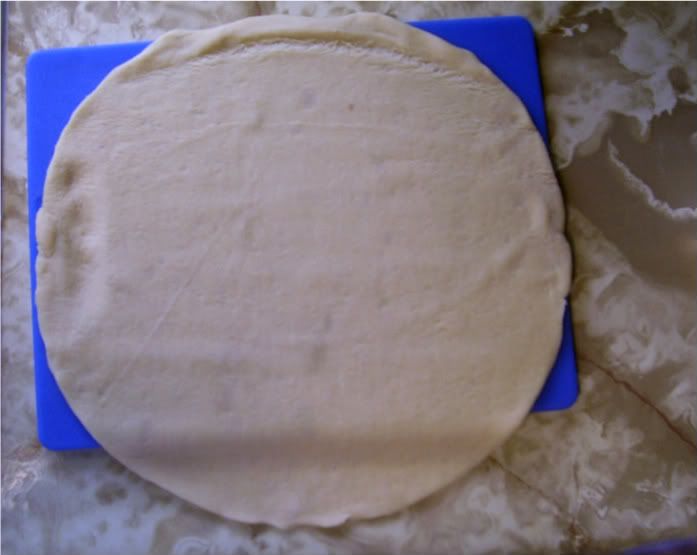 Step 22 roll out your pie crust dough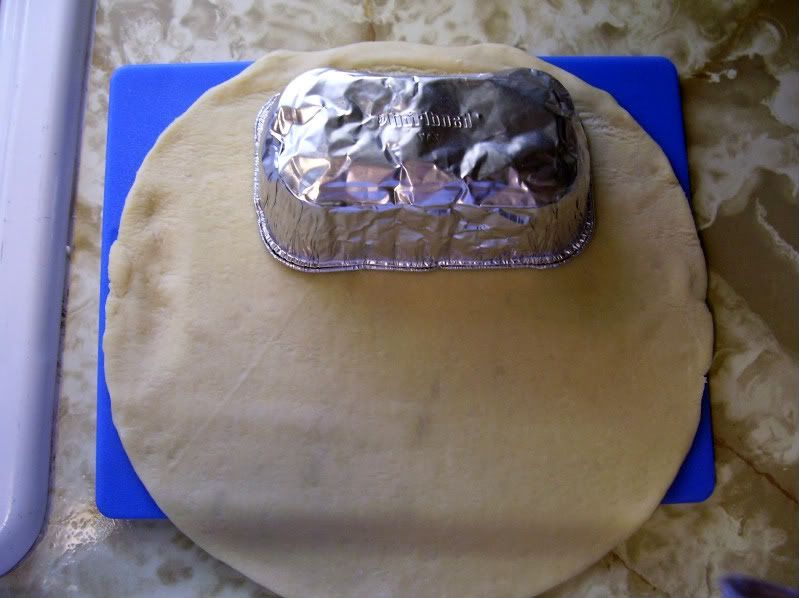 Step 22 Wing it and flip your pan over onto the crust and cut around it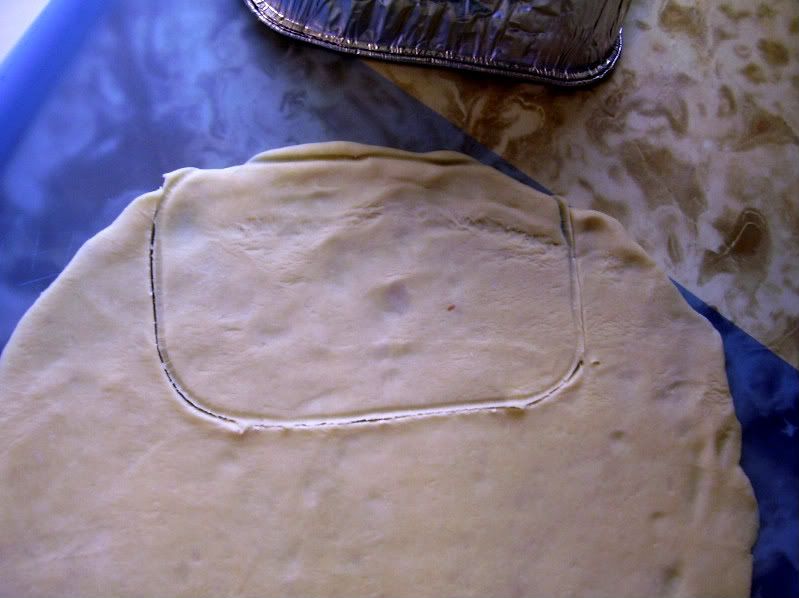 See just wing it a lot..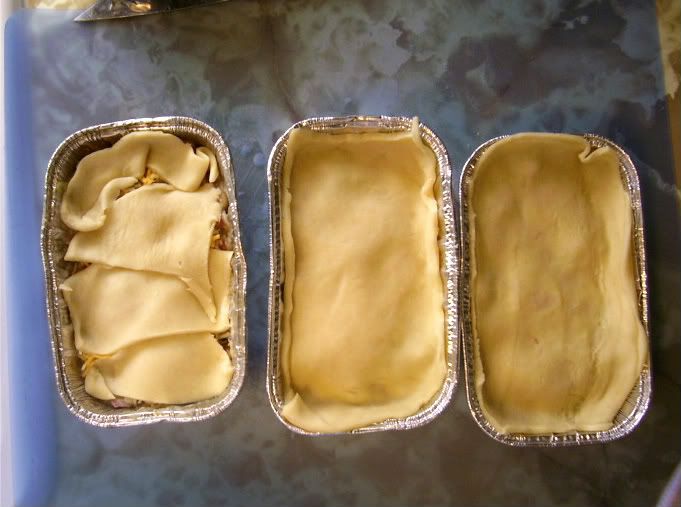 Step 23 THEY DON'T HAVE TO BE PERFECT :o) I RAN OUT OF CRUST AND USE THE SCRAPS TO COVER ONE (TASTED JUST FINE TOO)
Step 24 Make sure you remember to cut slits of you can use a small cookie cutter to cut cute air hole shapes.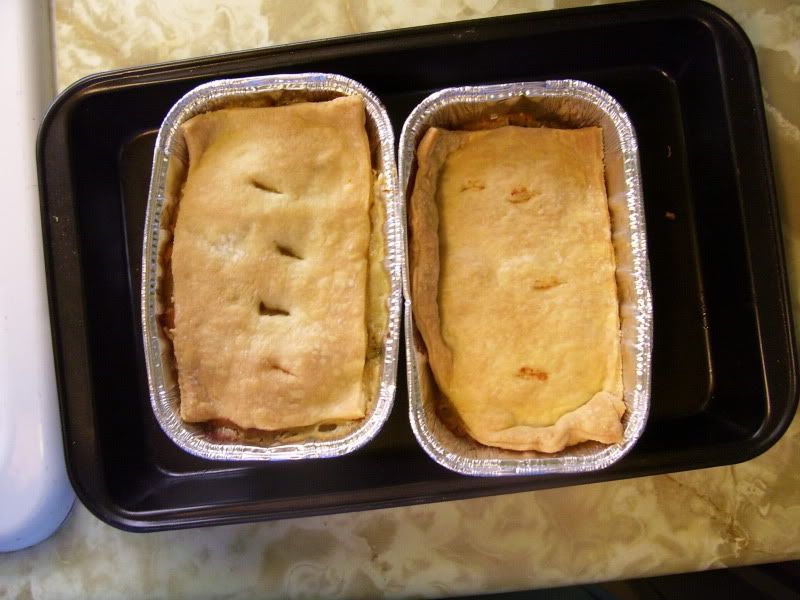 Step 25 Bake your pies for 45 in a 350 *F oven until crust is golden allow to cook some before removing. They will freeze/reheat well too :O)
Finished at 11am however I had to stop in between to wash dishes/grandma stopped over to pick up something so was busy for 30 mins and then drove to library and got some DVD's while they cooked :O) Multitasking baby..
Verdict: Picky DD loved them ate 2 however she accidentally got my extra veggie/cheese one and I guess it was so go she didn't notice ( extra veggie yippie) however she got sick but loved the pie so I will make sure to make mine first and put them up :O) I love them as well only change would be to do crust tops & bottoms and add more chicken broth filling was a little dry.